Rebranding is risky and it can take many forms. It can range anywhere from a simple logo update, like the one I was a part of at Sunrun Solar (read more here), to a full rebrand, like the one we just completed at 2nd Address, formerly Homesuite. Even a logo update can be logistically complicated if your brand is well-established and has a lot of branded assets out in the wild. A full rebrand is all-consuming even for a small startup.
If you're a marketer and your company is thinking of a rebrand, you should help guide the leadership through a sober analysis of the pros and cons. It's not an undertaking that should be taken lightly. If your company has already decided to rebrand and is expecting you to drive the process, buckle up. Hopefully this post can be your go-to CliffsNotes.
Here are the quick pros and cons from my perspective:
Pros of a rebrand:
1. Correct any potential misalignment between your brand, your target audience and your service or product. Remember though that customers and partners decide what your brand is and isn't much more than you do. If you're Federal Express and everyone calls you FedEx for short, just make that your new brand.
2. Generate a small, fleeting amount of buzz. Be prepared for some negative press though, as we all saw with the new Yahoo logo in 2013 and then again when Yahoo and AOL became "Oath". Ouch.
Cons of a rebrand:
1. Short-to-medium-term drop in organic traffic due to the new site's poor organic search engine rankings. This drop can be huge, so prepare your leadership team.
2. Potentially confused customers.
3. Can take your company's collective eye off the ball of providing the best product or service it can.
Assuming however that the decision has already been made and now you need to get it done, here are some helpful tips.
Step 1: Naming Exercise
Timing: Months in advance of your targeted rebrand unveiling.
A "rock fetch" often refers to getting asked to deliver a poorly defined object.
P1: "Bring me a small, round rock please."
P2: "OK, here's a lovely, small, round rock."
P1: "No. I'd really prefer one with a darker hue. And a smaller one."
The naming exercise is helpful because it helps focus the conversation and better define what people are liking and what they aren't. It turns what can easily be a frustrating rock fetch for a marketer into a more structured, efficient process. Speaking of structure, we used this handy worksheet from Fuze Branding and found that it worked well for us.
Don't expect your team to unanimously love any name. That almost never happens. Ultimately, your CEO is going to have to make a final decision that won't please everyone involved in the process. That's why they get paid the big bucks.
Regarding integrating SEO keywords into your brand name, it's worth considering, but only if it can be done elegantly. Out of the Top 10 most valuable brands in the world for 2017, none really have keywords in the name. At one point, IBM was known to stand for International Business Machines, and that was actually a keyword phrase. There's Jiffy Lube as well. Otherwise, there is value to having a unique name, which is why intentional mis-spellings like "Lyft" have been so popular over the past decade or so.
Throughout the naming process, remind your team that any brand is just an empty vessel. It's up to you to fill it with meaning with your customer experience and brand personality.
Step 2: Trademark Due Diligence
Timing: As soon as you have a short list of name favorites.
Once your company has rallied around a particular brand name, it's time to begin the legal trademark due diligence. In fact, you should begin this once you've reached a short list of about 3–4 name options everyone would feel comfortable with.
If you're using a lawyer, you should budget roughly $5K in total costs (legal fees + government fees) per country in order to fully register your new trademark there. It does vary by country, as does the time required. In the EU for instance, you can apply once for all EU countries. Thanks to Brexit, it looks like that will no longer include the U.K. So you'll have to apply for the U.K. separately.
Regardless of the nation you'd first like to apply in, a lawyer is going to perform a quick (1–2 days) summary check, often referred to as a "knock-out round". Then they'll perform a more in-depth round. That will include even thinking about translations. Under U.S. trademark law, a mark in a foreign language is treated as equivalent to the English translation under the Doctrine of Foreign Equivalents. So if you're considering Oso Rojo, your lawyers will be running trademark searches on "Red Bear".
If you're feeling particularly plucky, you could just go it on your own with the USPTO. You'll save some $ but you also might pull your hair out. You should probably at least use a service like UpCounsel or LegalZoom.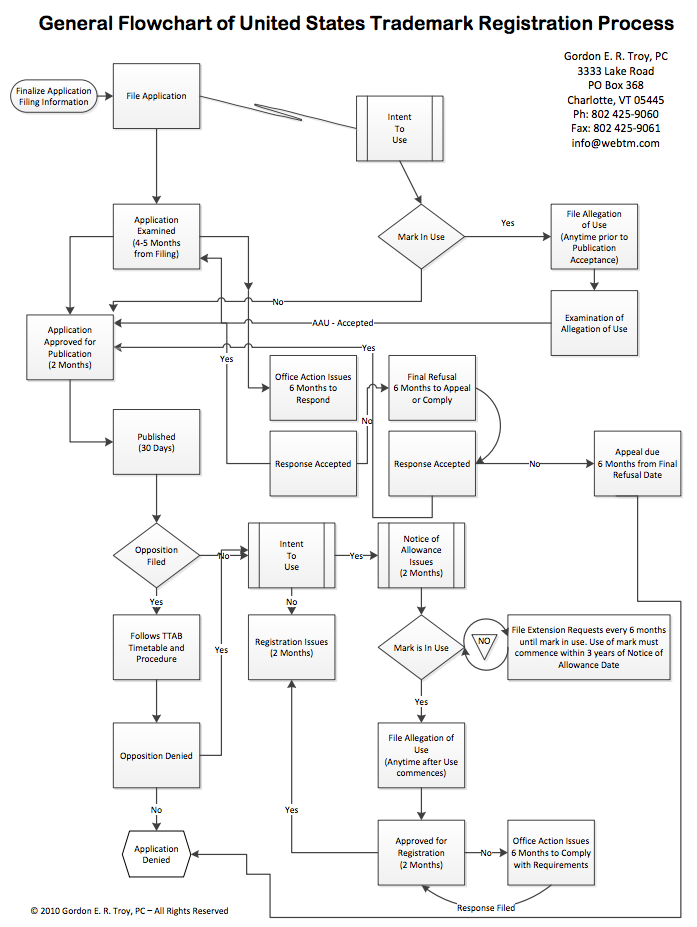 Easy, right?
It will take several months to receive your fully processed trademark registration, so in the meantime, begin to operate under your new brand as soon as possible. That will help establish your trademark(s) under the "common law" principle. A similar concept may apply regarding different countries. For example, if you've been operating in the U.S. for awhile and have established certain trademarks, a foreign government may be willing to back date your trademark registration there if you end up applying.
Step 3: Logo
Timing: As soon as you've decided on a new name.
People love to jump right to the logo, but hold off until you've got a clear short-list from the naming exercise. We didn't really begin brainstorming the logo until we had actually filed a trademark registration for our new name. Ultimately, a consultant worked with our lead Graphic Designer to finalize our new logo. We got a lot of fun and easy inspiration from BrandBucket though. It's a free service that sends you logo and domain suggestions based on your answers to some basic questions. As a Spanish-speaker and a small-time cryptocurrency investor, I got a particular kick out of this one:

Our logo journey ended up being:

Our new logo is more targeted to the business traveler.
*Note that the logo must be registered as a legal trademark separately from the name, at least in the U.S.*
Step 4: Marketing Automation & Blog
Timing: At least two weeks prior to new brand unveiling.
We use HubSpot for marketing automation. They made the rebrand fairly painless. We went into the Domain Manager and updated the default domains:

HubSpot's Domain Manager makes it fairly easy.
Then we went into the Design Manager and created new templates for landing pages, blog posts and emails. The good news here is that this can be done long in advance of the unveiling of your new brand. Then on launch day, simply switch the default templates in the Design Manager.
The most labor-intensive part of the rebrand with HubSpot is with the blog, if you host your blog with them. We had to go back through all of our old blog posts and change over references to our old brand name, which is not as simple as a global find-and-replace. We also had to create new call-to-action buttons using our new color palette and then replace them. It's likely just as laborious with any blog host however.
Migrating all of our custom HubSpot landing pages over was fairly laborious as well since we had to manually update the template for each one.
As far as support, our Customer Success Manager was a big help and the well-designed HubSpot Academy was easy to navigate to find easy-to-follow tips.
You can read about our migration from Marketo to HubSpot here.
Step 5: CRM
Timing: At least two weeks prior to new brand unveiling.
We use Salesforce for CRM. We started with updating our email letterheadand all email templates.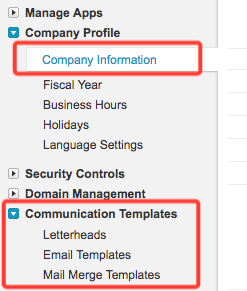 Most of what you need to update for SFDC can be found here in Setup.
After that we of course updated our company info.
The trickiest part with SFDC was our Help Center, which is built on the Salesforce Service Cloud. We had recently migrated it over from Zendesk to Service Cloud and, just as we had to do with our HubSpot blog, now we had to go back through all of our Help Center pages and change over references to our old brand name.
Step 6: Social Media Transitions
Timing: Secure new handles ASAP. Transition happens day of unveiling.
Social might be the trickiest part of a rebrand. First, you'll want to use a tool to check handle availability across as many sites as possible. We used Namechk and really liked it.
Twitter:
The best way to describe this is a shell game. That is if you want to keep the followers from your current handle. 
Step 1: Find your favorite available handle and secure it. We chose @Your2ndAddress
Step 2: On the day of the rebrand, change your existing handle to a placeholder. We changed @YourHomesuite to @YourHomesuite2017.
Step 3: Change your old handle to your new handle.
Step 4: Change your placeholder handle to your old handle.
Congrats! If all worked to plan, you now have control over both your old handle and your new handle and you've transferred your old handle's followers over to your new handle.
Facebook: 
Facebook essentially follows the same process as for Twitter. The key difference is that it's not as real-time. As a result, it's a bit more nerve-wracking. You'll probably want to secure your desired Facebook page name and username long before the public unveiling. That presents a challenge however: when you try to rename your old page, it could take up to three days! That means that your Facebook page name may remain your old name up to three days past your rebrand unveiling. Luckily, we got notified about 12 hours later that the page name change had been processed. Check out our overhauled profile here.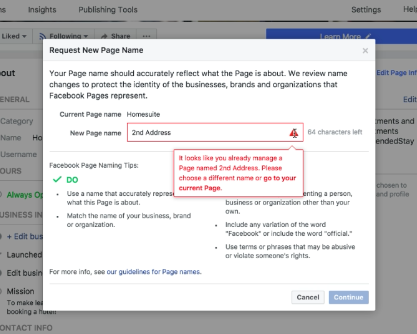 First free up the new Page Name you've been sitting on so that you can claim it.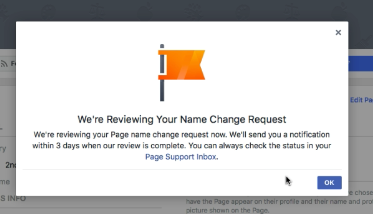 May take up to three days!
Instagram:
Instagram was far easier. It's more like Twitter…if the username is available, you can just take it. It still involves the three-card Monte game though.
Google:
We had maintained a Google My Business page under our former brand for awhile. Since GMB is really optimized for local brick and mortar stores and not national web brands, we took the opportunity to transition us to a Google Brand Account instead of GMB. That required us to remove our old GMB listing: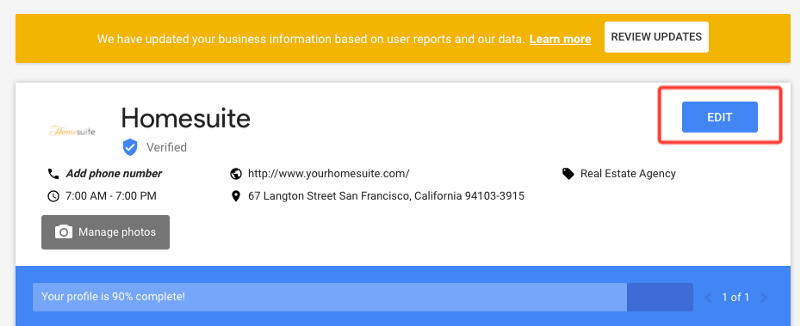 GMB Step 1 — Edit Profile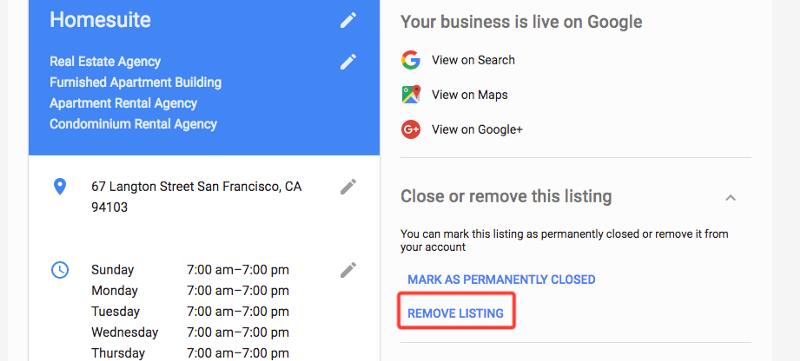 GMB Step 2 — Remove Listing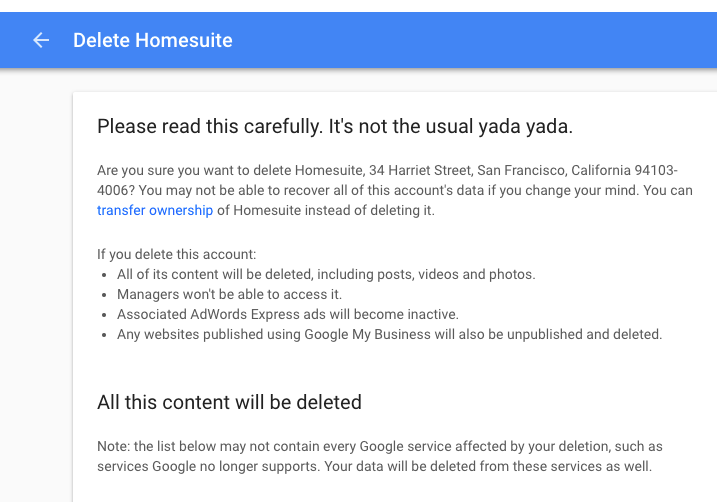 The GMB profile deletion warning.
A Google Brand Account is really just a Google+ profile which you can optionally associate to a YouTube account.
Be sure to read this great post from Moz and this one from Shareef Defrawi as well.
Step 7: SEO/SEM/Website
Timing: Day of unveiling. Start as much of the legwork well before however.
In order to maintain your organic traffic levels to the best of your ability, you'll have to tread carefully with Google Search Console. Use the change of address tool. Even after we used that, the GSC dashboard only referred to our old domain. The new domain seems to be getting crawled just fine however.

For some reason, this didn't update.
Once again, Shareef Defrawi of Bonafide wrote a great post about the technical details of this on the HubSpot blog.
Transitioning from the old site to the new site required the steady hand of our Engineering Team. They kept us on track with the site migration the night before our unveiling: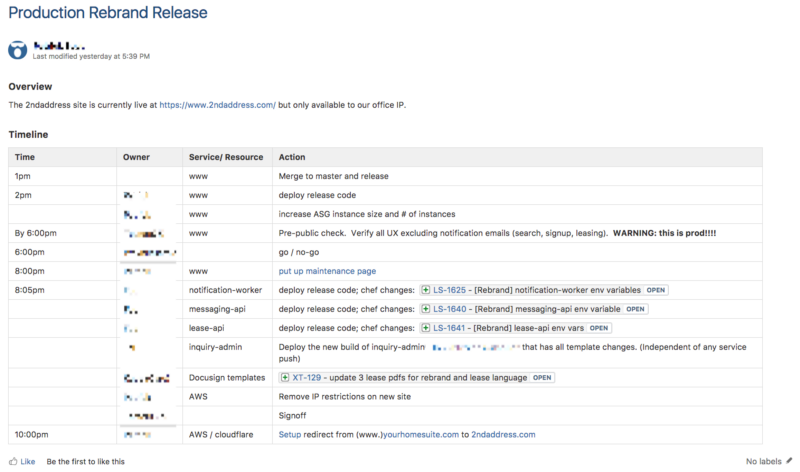 Website migration: old to new.
We were careful to have 301 redirects from our old pages to our new pages.
Despite these efforts, our organic search volume took a big hit. Both branded search and unbranded search were down. With time, as search engine algorithms learn that the two brands are related, our organic traffic should recover.
In order to minimize loss of branded search in the near term, there are a few things you should consider:
1. Create some explanatory versions of your search ads and target them towards branded searches. We made sure to include "Homesuite is now 2nd Address" in the first line of the Description. You can also make a version with the explainer in the Headline in order to stand out more.
This ad will help capture some of our branded search for our former brand.
2. Post an update from your old Google My Business profile.
3. Have a page on your new site explaining your rebrand. We used our blog, which we linked to from our homepage.
4. Put a press release out on the wire. It should cost you roughly $500. They'll charge you by word count and scope of distribution. If you're on a tight budget, keep it short (<500 words) and limit the distribution to your most crucial local markets.
5. Try to get some press coverage. Most journalists aren't going to cover a simple rebrand story, so you'll have to enrich your pitch. Is there any other important company news you can bundle in? Even if you can't get any press coverage, you can reach out to journalists that have covered you in the past and inform them of the rebrand and ask the links in the old articles to point to your new site. This should be part of a broader backlink update campaign. Use a tool like Moz or SEMRush or BuzzSumo to facilitate this.
6. Be active on social media with good quality content in the first few weeks after the rebrand.
7. Update all of your company's profiles on sites like Crunchbase, AngelList, Quora, Reddit, Wikipedia, etc.
In Conclusion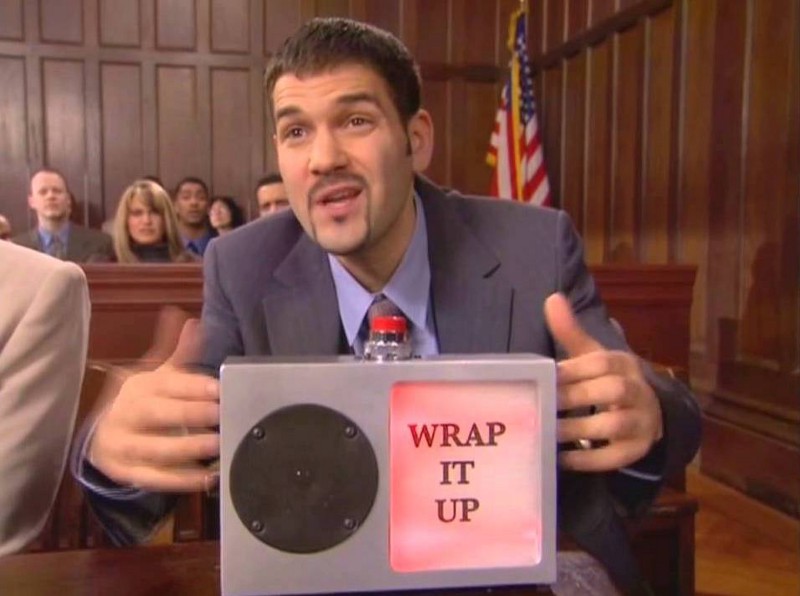 TL;DR
It's as easy as that. I hope this helps you on your rebranding journey! The 7 steps above aren't the only steps though. For a handy comprehensive checklist, check out this spreadsheet from Bonafide and read their blog post here.
Have any tips for us? We're all ears. Let us know.